A handbook designed by a Toronto mom for other new moms.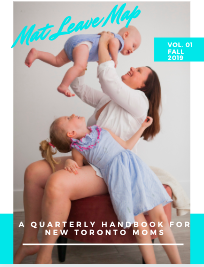 I've developed this quarterly handbook as a companion guide to my website and Instagram feed. The idea behind it is to allow me to share things with you in a way that doesn't disappear with the 24/7 social media cycle, give you some exclusive content and to give you something that you can refer back to! I also wanted to be able to share some of my favourite picks and finds with you regularly.
What you'll find in this issue:
– 10 things to do on mat leave this fall that are free
– Information on how to access your personalized mat leave recommendations from me!
– Directory of mom and baby-friendly places across the city
– Links to other Toronto mom resources
– And more!
I hope you enjoy!
Kirsten